Welcome to
Al Mas Cargo United Arab Emirates
Our commitment to customer satisfaction is second to none. With a wide range of products and services specifically tailored to meet our customer's varying requirements, we Al Mas Cargo United Arab Emirates can provide a high level of service whilst continuing to deliver cost-effective solutions.
As our cargo business in the United Arab Emirates continues to expand, so does our reputation. As one of the world's major players in the cargo aviation market we are known for our efficiency and reliability, offering secure and convenient connections through our local and international cargo movers hubs. Being strategically located in The UAE, we are uniquely positioned to provide a cargo movers bridge between East and West via our hubs, giving us increased flexibility to use our capacity efficiently and move your cargo with minimal ground handling time.
Our Services in United Arab Emirates
Although cargo shipment remains our core business, we offer a number of support operations and value-added services in the United Arab Emirates that enable you to exercise greater control over your supply chain. These services include
Show all
Track your cargo easy...
With the Al Mas Cargo LLC Tracking App United Arab Emirates you can keep track of your container shipments move-by-move. At Al Mas Cargo our services are Fast, Direct and Dedicated. The same qualities apply to our free mobile App, which enables you to track and trace your cargo container shipment at your convenience. We provides a technology platform to track cargo from pick-up to delivery. Our customers have multiple platforms to track their cargo. They can use app, mobile, website platform or simply call our customer service helpline to speak to our executives. With the help of this app, you will also get notified on latest offers and promotions provided by Al Mas Cargo LLC and its subsidiaries.
Download cargo tracking App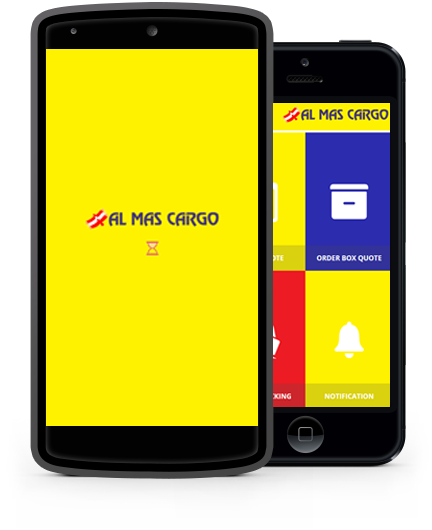 Best Cargo Company in United Arab Emirates
Al Mas Cargo LLC is a leading cargo movers company in the United Arab Emirates, and we're in this field since 2001. The company has more than 900 destinations across the globe and still engaged in expanding its market share. The company's primary objective is to get more market share and provide the best quality services to its customers. Due to the fact, Al Mas Cargo Movers LLC is spending more fund to modernized tools and incorporating the latest technology, including well-trained staff. At Al Mas Cargo, we provide Import and Export services worldwide, Providing international cargo and air freight, including extra baggage globally.
We work very closely with national customs authorities and can offer comprehensive advice on customs procedures and duty rates and provide a full customs brokerage service.
Al Mas Cargo Movers is known for our Cargo Shipment Service in the United Arab Emirates, Sea Freight Forward service, Container Shipment service, International Car Shipment service in the United Arab Emirates, and International Moving services throughout UAE.